Useful materials and videos
During our projects and trainings we always get questions where to find more information and where to find methods. We believe that the best way to become a good facilitator is to learn to read groups and people, experience methods and how you feel during them, understand the aim of all methods and by taking the risk of using the methods.
Methods are not aims in themselves. Methods are like buses. You always want to take the group somewhere with the method. So always when you choose a method, think first, what the method must help you achieve! And always love the group; take care of everybody in the group; be comfortable with a method, if you do it first time, say it and never express that you don't like some method. In this case do not use it, because then you just humiliate people by making them do something you hate.
All methods can be very useful and they can hurt people just as often. In the end it depends on you, which story you tell, how you put the method in the context, which rules you create, how energetic you are etc. Facilitatin is amazing if you do it well. Good methods help people discover how amazing they are and this is the base of success. Most of us believe we are less capable than we actually are.
Here we have collected some useful resources:
100 ways to energize groups - Download
EDUCATION PACK - Ideas, resources, methods and activities for information intercultural education with young people and adults http://eycb.coe.int/edupack/
COMPASS - A MANUAL ON HUMAN RIGHTS EDUCATION WITH YOUNG PEOPLE http://eycb.coe.int/compass/en/contents.html
T-KITS OF COUNCIL OF EUROPE (1. Organisation management 2. Methodology in Language Learning 3. Project management 4. Intercultural learning 5. International voluntary service 6. Training essentials 7. Under Construction Citizenship, Youth and Europe 8. Social Inclusion 9. Funding and Financial management 10. Educational Evaluation  in Youth Work 11. Mosaic: The training  kit for Euro-Mediterranean youth work 12. Youth transforming conflict)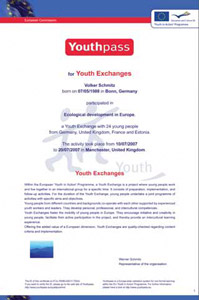 YOUTHPASS - is an European recognition tool for non-formal and informal learning in youth work. Methods for recognising Youth pass competencies
RESOURCES FOR WORKING WIT INCLUSION ISSUES:
Books - Raamatud
No Barriers No Borders - SALTO handbook for organising mixed-ability youth projects - Download
WEB RESOURCES
Winning works of young lions competion for young designers about job possibilities for people with disabilities. Very cool advertisments, posters. Have a look
Inspiring or energizing trailer of movie "Intouchables" (2012). Have a look
Ihansama.fi - is a very innovative campaign website of Finnish Association of People with Physical Disabilities. 

Wheelchair Dash game - use arrows for moving and space for jumping!
Collection of videos from all over the world on the topic of awareness and inclusion of physical disabilities. Have a look
VIDEOS CREATED DURING OUR REALITY SEMINAR
1. So you think they are different?
http://animoto.com/play/Hls9dOk1ZP5Vy72KfPBZ1g
2. Dance - http://animoto.com/play/vfPB64Hx1q8BA3m3j0YkLQ
3. What's your (dis)ability -
http://animoto.com/play/vnE33rI8SvwLiME27daniQ
4. I have a dream
http://animoto.com/play/NyQL6ZzBmzqZlI8ootgz0g
The seminar was financed by program Youth in Action
MTÜ Headest
tel +372 641 4526
headest(at)headest.ee